Springwater Forest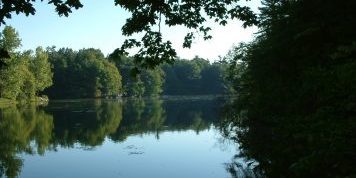 Location
From highway #3 (Talbot Line) turn south onto Springwater Rd
Drive until you find the signage to the east (left side)
Springwater Forest is a very popular day use site for visitors. This 370 acre (150 hectare) site houses a variety of different habitats including a 14 acre (5.5 hectare) pond and forests filled with a variety of Carolinian species. A trail system has been added to allow the public to explore nature's beauty. There are 3 different trails complete with trail guides. The Springwater Forest trail system goes through 370 acres (150 hectares) of mature Carolinian forest. It has 8 km worth of trails, and one wheel chair accessible trail. Some species you may find here are the hooded warbler, tufted titmouse and the pileated woodpecker. The Millpond Trail goes through the campground and winds with a freshwater marsh, over an earthen dam and past a variety of Carolinian plant and animal communities. The Arboretum trail is 1.5 km in length and well marked. It begins at the school house and leads past more rare Carolinian species such as american sweet chestnut, paw paw, white mulberry, blue ash, heart nut, sassafras and tulip tree.
The Catfish Creek Conservation Authority is in charge of this site and uses it for a variety of education activities. Most of these education programs are about land and water management and occur throughout the year. The Jaffa Environmental Education Center and the Catfish Creek Conservation Authority work together to provide students with a maple syrup education program every March. This educates elementary students on various methods of maple syrup productions and stresses the importance of sound forest management techniques.
This forest has been identified as an Area of Natural and Scientifics Interest (ANSI), as well as being an Area of Provincial Significance. This is due to the 11 species of rare vascular plant species that have been fond living here. There are also 3 species of provincial significance: tulip tree, eastern flowering dogwood and yellow mandarin. 150 species of bird have been found within the area. The pileated woodpecker is of importance because of their need to have 40 acres of forest filled with number dead trees (snag) for habitat.