Aylmer Wildlife Management Area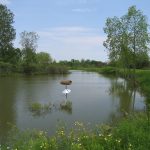 Location
Exit the 401 at interchange 203 (Elgin Rd, South)
Turn left (go east) off of Elgin Rd. onto College Line
Turn right (go south) off of College Line onto Hacienda Rd
The 911 address is 10594 Hacienda Rd.
Situated on 112 acres of crown land, the Aylmer Wildlife Management Area provides visitors with many opportunities, including; hunting, education and wildlife viewing (particularly waterfowl and shore birds). There are four viewing stands next to the sanctuary; three are off the main parking lot and one is at the back of the property, along the south access road. One of the front viewing stations is wheelchair accessible. This site has picnic tables, trails for hiking and portable washrooms for people to use during their visit. The AWMA also provides waterfowl hunting opportunities from two blinds along the north boundary fronting College Line.

Tundra Swan Migration
The Aylmer Wildlife Area is an annual favorite staging area for migrating Tundra Swans. These beautiful swans can be viewed annually during late-Feburary, March from the Aylmer Wildlife Management Area's observation decks. Come out and ask Ron (our local swan expert) your questions about Tundra Swans. To find out more and to hear the daily swan count, please call the Swan Line at:
For more information, please call (519) 773-SWAN or (519) 773-7926
To learn some interesting facts about Tundra Swans, click HERE
For some Tundra Swan Trivia, click HERE
About AWMA
Aylmer Wildlife Management Area (AWMA) is comprised of distinct habitats that help to make this a natural area with conifer/wildlife shrub hedgerows, old fields/meadows, shrub thickets and croplands. Inside the 80 acre (32 hectare) fenced sanctuary, there is the tallgrass prairies field, goose pasture and 50 acres (20 hectares) of wetland ponds. The ponds and sloughs are designated as provincially significant wetlands and are best known for attracting waterfowl during the spring and gall migrations. This includes the tundra swans, which the site is best known for viewing.
The main part of AWMA is a fenced-in sanctuary of about 100 acres (40 hectares). This sanctuary contains a series of ponds and sloughs which are designated as provincially significant wetlands.
Since 1997, when the Elgin County Stewardship Council entered into a partnership with the Ontario Ministry of Natural Resources to co-manage the property.
Activities
Year Round Hiking
Canada Goose Way, & Mockingbird Circle
Dog Walking and Training- NOTE: The Meadows for ground nesting birds are off limits to dog training during the spring and summer. All Dogs are to kept on leash in the meadows around the Canada Way trail during the ground bird nesting season in the spring and summer.
Bird Watching

Seasonal
Hunting- Hunting for migratory waterfowl is permitted in accordance with Provincial Hunting Regulations defined by the Ministry of Natural Resources and Forestry (MNRF). Hunting is only permitted on Monday,Wednesday,Thursday and Saturday and is only permitted in the morning as defined by the Provincial Hunting Regulations. Hunting for deer, small game and wild turkeys is not permitted at AWMA at any time. Hunting blinds are available and hunter numbers are controlled by numbered parking spaces, parking and hunting in an unmarked space is prohibited. Further rules and regulations concerning hunting may be obtained by contacting the Ministry of Natural Resources and Forestry Aylmer District Office at 519 773 9241
Tundra Swan Viewing- Spring Migration usually takes place during March. Swans are fed at 9am daily. Aylmer Wildlife Management Area is perhaps the best place in North America to see tundra swans up close
Banding of ducks– (Darrell Dennis) volunteer with Canadian Wildlife Service bands between 500-600 each year during migration (August)
Duck feeding– under permit from Canadian Wildlife Service from mid-August to mid-December feeding is done (Monday, Wednesday & Friday). This is being carried out with the help of the Environmental Leadership Class from the East Elgin Secondary School
Shore bird migration– spring and fall
Farming– spring to fall 178.6 acres at present (2013)
History
Formerly called the #14 Service Flying Training School R.C.A.F. (Royal Canadian Air Force), this property operated as a air base until 1961.
To read history of the Aylmer Wildlife Management Area,click Here